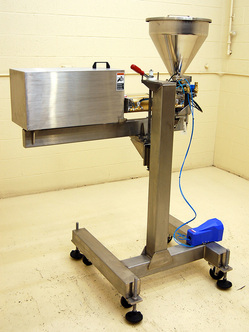 NEW 316 STAINLESS STEEL SINGLE PISTON FILLER...

(also see VIDEO link below!)
...adjustable for fills of up to 34 ounces per stroke. Pneumatically operated, with 16" diameter by 16" deep 7-gallon hopper. 34 ounce capacity piston and cylinder, discharging via a 5/8" diameter (OD) drip-free spout. The piston operates in conjunction with a ball valve which provides a small opening for product to pass through, and is thus best for very for smooth viscous liquid products such as oils, smooth dressings, sauces, lotions and creams.
Currently configured with a footswitch for semiautomatic operation, or could be set to cycle continuously, or configured for automatic operation (e.g. by photo eye).
This volumetric positive displacement viscous liquid filling machine is mounted on a height adjustable T-base stand with locking casters and adjustable feet. All stainless steel construction, with corrosion-resistant 316 type stainless steel product contacts.
A variety of piston and cylinder change parts are available (at extra cost), to increase the per-stroke capacity up to 1 gallon.
In stock NEW, ready to go and available for immediate shipment.
Alard item reference #:Y1169