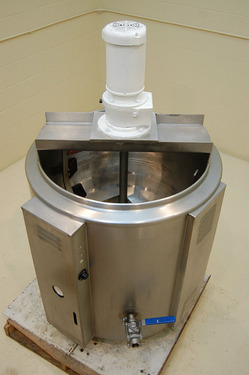 GROEN model EE-80, 80 GALLON ELECTRIC-HEATED STAINLESS STEEL KETTLE, with SINGLE
MOTION SCRAPER-AGITATOR.
Stainless steel hemispherical bottomed vessel, with 1.5" side bottom outlet with Tri-clamp connection. Steam jacket manufacturer tagged and National Board coded for 30 psi, with self-contained / integral electric heater powered by 460 volt 3 phase electrical input, complete with operator thermostat control.
Single motion scraper-agitator on stainless steel bridge powered by a 1HP 230/460 volt 3 phase gearmotor drive set up for 30RPM on agitator.
Stainless steel exterior shrouding.
This 80 gallon electric cooking kettle is in stock in VERY GOOD OPERATIONAL CONDITION, and available for immediate shipment.

Alard item reference #:Y1637