FOOD GRADE METAL DETECTOR with BELT CONVEYOR, 20x6...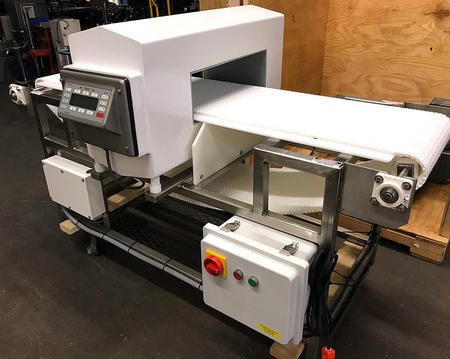 A reconditioned Goring Kerr model DSP2 metal detector head on a new stainless steel thru-conveyor...

6 inch high by 20 inch wide* net USABLE aperture opening with the conveyor belt in place.

NEW stainless steel belt transfer through-conveyor, with a 72 inch long by 16. 25 inch wide interlocking plastic chain type belt running over an anti-static UHMW plastic bed.*

Epoxy painted aluminum search head enclosure, with new water-tight epoxy chute / liner.



Integral digital operator controls for metal detection head.



Integrated belt-stop alarm reject system with new gasketed PVC control box.

34 inch working height on threaded rod adjustable feet.

Fractional horsepower conveyor belt drive with variable speed controller.

110 volt single phase (standard household current) electrical input.

A food grade belt transfer metal detection system for food processing and / or other industrial process applications.

As of this writing, this reconditioned metal detector on a NEW conveyor is in transit from being calibrated by a factory trained specialist, and will be back in stock at Alard in LIKE NEW and EXCELLENT operational, electrical, mechanical and cosmetic condition, and available for immediate shipment. CALL 315-589-4511 to confirm availability, and to discuss your particular metal detection equipment needs).

*All dimensions are subject to confirmation on receipt.

Alard item reference #:Y3700