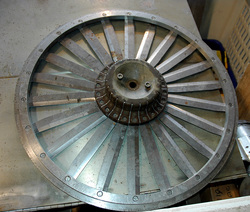 SLICING WHEEL FOR URSCHEL Translicer
Model TRS-2500 / TRS-2510; --Urschel assembly number 51203.
22 blade slice wheel assembly manufacturer specified for 1/8 inch (3.2mm), and (with 11 blades) 1/4 inch slices (6.4mm). Series 275 on wheel/belt speed chart.
As of this writing this Translicer cutting wheel assembly is in stock in good condition, available for timely shipment.


Alard item reference #:Z9536