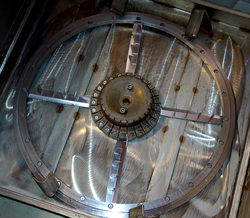 JULIENNE SHREDDING WHEEL FOR URSCHEL Translicer Model TRS-2500 / TRS-2510
; --Urschel assembly number 51052.
24 blade slice wheel assembly manufacturer specified for 1 3/8 inch (35mm) by 1.5 inch (38mm) julienne cuts.
As of this writing this Translicer cutting wheel assembly is in stock needing new blades, but otherwise in good condition and available for timely shipment.
Alard item reference #:Z9539