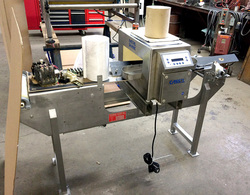 CONVEYORIZED METAL DETECTOR for food process metal detection, digital, washdown, all stainless steel...

Consisting of:
CASSEL "Metalshark BD" DIGITAL stainless steel search head, with 6 inch high by 14 inch wide aperture opening. IP-67 washdown sealed food grade sanitary stainless steel search-head enclosure with microtouch operator control panel. Made in Germany, new 2004, complete with test wands and manuals.
As of this writing, the aforementioned Cassel metal detector is in our reconditioning shop being mounted on and integrated with a Goring Kerr all stainless steel CONVEYOR with a 60 inch long by 10" wide food grade rubberized anti-static belt running over a micarta conveyor bed,complete with a belt-stop-alarm reject system, with a washdown drive. When the marriage of the search head and conveyor are complete, USABLE APERTURE height will be 5 inches (the belt and bed will take up about an inch of 6 inch aperture height).

This WASH-DOWN food-process metal detection system is presently being refurbished by our shop, and will be available shortly, in EXCELLENT operational, electrical, and cosmetic condition.

Alard item reference #:Y1905