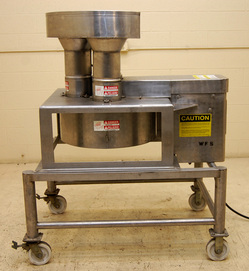 BROTHERS LEGROW VEGETABLE SLICER
, with 24 inch diameter cutting disk. Lever adjustable for cuts up to 1.25 inch thickness, one or two-dimensional cuts for slicing, strip cuts, julienne cuts, shreds, on vegetable products such as lettuce, cabbage (slaw), onions, etc. Manufacturer rated for up to 20,000 lbs per hour. All stainless steel.
Configured with standard three-legged hopper, 31 inch diameter stainless steel, with a 24 inch wide opening in the 6 inch high sides at the back, and (3) 6inch diameter infeed tubes 12 inches deep to the cutting head. Onion tubes (e.g.
for onion ring cutting) are also available. Currently configured for flat slices (one-dimensional cut), both the cutting disk in the machine and the feed tubes are slotted to accept "fin blades" for a two-dimensional cut.
The cutter sits on tubular stainless steel riser stand on 7 inch high casters, for a 57 inch infeed height, and 29 inch discharge height, and is powered by a mechanical variable speed drive, with 208/230/460 volt 3 phase motor.
As of this writing, this Legrow Vegetable Slicing Machine is in stock in very good condition, available for timely shipment.
Alard item reference #:Y2083