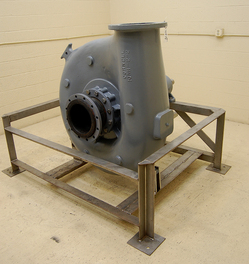 RECONDITIONED CORNELL FOOD PUMP / HYDRO TRANSFER PUMP, 10 inch diameter inlet / outlet, on stainless steel frame with motor mount.
Cornell Model 10NHPP-F12K cast iron pump, with patented expanded volute (for gentle product handling), with 21 inch diameter stainless steel impeller, 10 inch diameter suction and discharge openeings, with flanged connectors. Manufacturer rated for pumping solids up to 7.25 inch diameter by 12 inches long in water at up to 3,000 gallons per minute.
This water transfer food pump comes mounted on a 56 inch long by 72 inch wide by 26 inch high angle stock stainless steel frame with a slotted motor mount.
Pump curves available on request.
Available as-is (pump and frame only), or we can quote it with a drive sized to buyer specification, and / or an infeed / vortex tank ready to plumb into your flume system.
As of this writing this refurbished 10 inch Cornell Food Pump is in stock at Alard, in EXCELLENT operational, mechanical, and cosmetic condition, available for immediate shipment.
Alard item reference #:Y1878