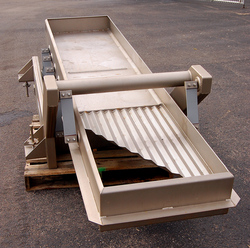 KEY ISO-FLO VIBRATING TRANSFER CONVEYOR, 24 inches wide by 8 feet long, all stainless steel w/rigidized surfaces.
Flat dimpled pan infeed section, 76 inches long with 6 inch high sides, and 1 inch "speed bump" 41 inches from the infeed, leads to a 1 inch step down to a ridged / aligning section cut at a 45 degree angle for right-angle discharge; --measures 36 inches long along the left side edge of the conveyor, and 6 inches long on the right edge).
Flexible Iso-Flo mounts on the stainless steel base frame can be set on legs or ceiling suspended. The conveyor body is mounted to the base on slat type arms, and powered by a Key eccentric with 3 phase motor.
As of this writing, this Key Iso-Flo vibratory conveyor is in stock at Alard, available for timely shipment.
Alard item reference #:Y2097