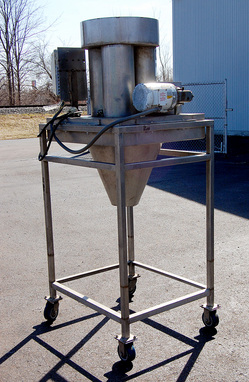 CABBAGE / LETTUCE SHREDDER / COLE SLAW CUTTER / SAUERKRAUT SLICER, with 20 inch diameter cutting head, all stainless steel.
6 inch deep stainless steel infeed hopper 6 inches deep at the top, with (3) 8 inch diameter feed tubes to the cutting head. Currently set with a two-dimensional cutting disk for a slaw or sandwich lettuce type of strip cut / shred. Long, tapered discharge funnel with a 7.5 inch diameter outlet.
Food grade stainless steel construction including tubular stainless steel frame on casters, set for an 80 inch infeed height, and 34.5 inch discharge height, as configured.
Complete with a 3 phase gearmotor drive, with variable speed control.
As of this writing, this 20-inch cabbage cutter is in stock at Alard, in good condition, available for timely shipment.

Alard item reference #:Y2208