KEY ISO-FLO VIBRATING FINES REMOVER GRADER, 5-step, stainless steel 14 foot 3 inches long by 34 inches wide bed, with non-stick dimpled rigidized surfaces.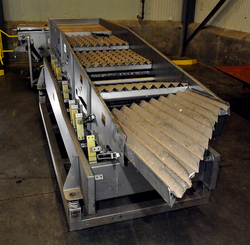 NOTE: Picture shows grader with screens just sitting on the machine, not properly installed. WHEN properly installed, each screen fits in place in a horizontal position!

Fixed / flat dimpled surface infeed section 30 inches long, with 4 inch high sides, drops over a 3 inch step to the first screen section, also 30 inches long, with an aligning ridge configuration (the ridges run with the flow to put product lengthwise) with 1 inch perforations. This is followed by identically configured second and third screens sections, also with 3 inch steps between each.
The fourth and final discharge screen section is of the same ridged material, but withOUT perforations, and is diagonally cut for a 90 degree discharge. Specifically, the final / discharge section is 24 inches in length along the left side edge, and 52 inches in length along the right side edge.
The "screens" are all dimpled / rigidized surface, and removable / replaceable, held in with quick-release hooks. There is a full length catch pan beneath the screens, also dimpled surface, to catch fines and discharges 3 inches below the top deck, and well short of the angled discharge.
Flexible Iso-Flo mounts on the stainless steel base frame can be set on legs or ceiling suspended. As currently configured (sitting on a stainless steel base frame on casters), this size grader has an approximately 66 inch infeed height, and approximately 43 inch discharge height.
The conveyor body is mounted to the base on slat type arms, and powered by a Key eccentric with 3 phase motor.
As of this writing, this Key vibratory size grader is in stock at Alard, available for timely service and shipment.
Alard item reference #: Y2239