Silgan White Cap SEALING MACHINE /




STEAM-FLOW VACUUM CAPPER...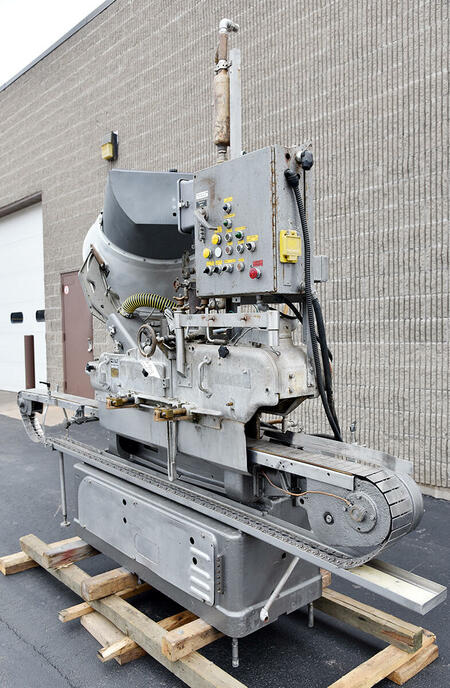 A Silgan (formerly Continental) WHITE CAP Vapor Flow Model VE-LJG STEAM-FLOW VACUUM CAPPING MACHINE, with CAP HOPPER-SORTER; an inline high-speed steam-capper.


Model 6R17 cap hopper-sorter, hand-adjustable to feed / apply approximately 53mm to 89mm cap diameters (subject to confirmation with your sample caps).


10 foot 8 inch long through-conveyor with 4.5 inch wide stainless steel table top-chain, running in a left to right container flow from the perspective of the operator control panel position.


A straight-through in-line capping machine which will accept random or time-fed jars at high rates of speed.


For applying PT (press-on and twist-off) caps.


Complete with control panel, 3 phase drives, assorted steam controls and valves.


As of this writing, this steam-flow lug cap capper is in stock at Alard, in very good operational and mechanical condition, available for timely shipment; needing only minor cosmetic cleanup, and a test run to confirm operation with your cap and container samples prior to shipment.


CALL 315-589-4511 to confirm availability, and to discuss your particular food process bottle and jar cap application equipment need.
Alard item reference #:Y2242