STAINLESS STEEL CUTTING MILL, food grade stainless steel knife cutter...

...chopper / grinder / garbage disposal, for particle size reduction by cutting, shredding, or granulating, with cutitng action; including tough or fibrous materials such as vegetables, fruit rinds, roots, pulp, bark, & etc. For particle size reduction from food production, to garbage disposal. The product is retained in the cutter cavity until the particle size has been reduced to the point where it can pass thorugh a bottom screen (can be sized to buyer specification).

23 inch by 8.5 inch feed throat leading to staggered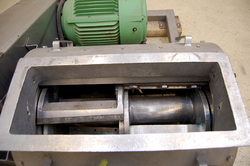 12-inch heavy-duty blades horizontally mounted around a 5 inch diameter horizontal shaft, in two side-by-side sections (see picture), with (6) blades on each side. 22 inch by 28 inch open bottom discharge. 30HP 3-phase V-belt drive. The blades are staggered so that only one 12 inch blade is in contact with the product being cut at any given time, reducing shock and allowing for smooth continuous cutting.

Food grade T304 stainless steel construction, including tubular frame, without legs as currently configured, with a 30" infeed height, and floor level discharge.

As of this writing, this multicut knife cutter is in stock at Alard, in good condition, availabel for timely shipment.
Alard item reference #:Y2486