150 GALLON stainless steel STEAM JACKETED KETTLE with twin motion SCRAPER-AGITATOR, and TILT discharge, Groen Model TADN150.
42 inch diameter by 32 inch deep hemispherical bottom stainless steel vessel, with pour lip. The mixer vessel has a bottom stainless steel steam jacket manufacturer tagged for 100 psi steam pressure.

The kettle is topped by a stainless steel mixer bridge, with an anchored scraper agitator, and an offset "christmas tree" style agitator, both driven in common by a single 3 phase drive.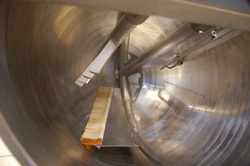 The kettle is mounted on a painted steel frame designed so as to allow clearance for a tote or drum to be placed beneath the discharge. The kettle pivots on the frame, with manual crank / tilt-to-dump mechanism, with a 73 inch infeed height, and a 37 inch discharge height.

As of this writing, this tilt kettle with scrape-surface agitation is in stock at Alard, it's steam jacket has been hydrostatically pressure tested and confirmed sound (no leaks), and is in the process of being cleaned and serviced in our shop to ensure VERY good operational condition; --available for timely shipment.

Alard item reference #:Y2580