VESTIL BARREL & DRUM DUMPER...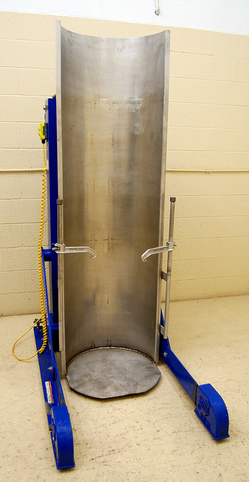 A Vestil model HDD-60-7-P lift-and-dump hydraulic drum dumper.


Stainless steel barrel holder chute 23.5 inches wide by 83 inches long, with hold-down clamps.


Portable with fixed front casters, swivel rear casters, and floor screws.


Manufacturer rated for 750lb capacity.


137" high overall height in full tilt position.


3/4 HP 110 volt single phase hydraulic power-pack with operator controls.


Powder coated blue steel frame.



New 2011.

As of this writing, this barrel dumper is in stock at Alard, in EXCELLENT operational, mechanical, hydraulic, electrical, and cosmetic condition, ready to go and available for immediate shipment.

Alard item reference #:Y2863