REFURBISHED URSCHEL Model VSC SEGMENT CUTTER...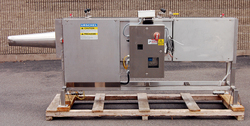 SPEAR CUTTER / SLAB CUTTER / STICK CUTTER / WEDGE SLICER / STRIP CUTTER.

The Urschel VSC lengthwise slicer cuts square, rectangular, segment, spear, wedge, stick, and slab cuts from a variety of vegetables such as cucumbers / pickles, carrots, onions, zucchini, potatoes, peppers, and other products 4 inches or less in diameter, which can be pushed at high velocity through a cutting grid. A variety of cutting heads are available for flat or crinkle cut slabs, retangular strips, square strips, and wedge / segment cuts.
Comes with an Urschel Velocicut 4 inch diameter 8-segment wedge cut head (other cutting heads available to be priced to buyer specification).


Food grade sanitary stainless steel construction.


Central lubrication cluster.


Factory stainless steel electrical control box with safety interlock system (cuts power to drive if the machine's guards are opened).


5HP 3 phase variable speed drive.



Inline straight-through feed high velocity cutter.
This reconditioned Urschel VSC pickle cutter is in stock at Alard, in EXCELLENT operational, mechanical, electrical, and cosmetic condition, available for immediate shipment.

Alard item reference #:Y3144