RAMSEY Autochek 4000 CHECKWEIGHER CASE-WEIGHER, stainless steel.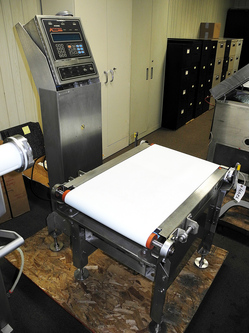 A Thermo Ramsey Icore Versa Frame Model 44HP weigh-table with AC-4000 digital electronics control system...


Food grade USDA sanitary stainless steel construction.




Weigh belt measures 18 inches wide by 30 inches long with solid food grade white belt.



Conveyor belt working height of 27 inches on threaded rod adjustable foot pads.





Integrated stainless steel control pedestal with digital touchpad operator control panel with settings for 15 product presets.





REJECT system: comes configured with a bell reject notification. This model has three diverter outputs to support other / additional reject configurations per buyer specification.





Conveyor belt currently configured for 72 feet per minute, but manufacturer rated for line speeds from 20 to 300 fpm, and package rates to 100 packages per minute (depends on package size).




Per package weight capacity up to 110 lbs.



Displayed resolution to +/- 1, 0.1 or .01 units.





Manufacturer recommended for frozen foods, bakery, confectionary, meat and any canned or packaged goods; detergents, chemicals, pharmeceutical and bottled liquid products; as well as manufactured products such as rubbe4r, plastic, metal parts, multi-component parts packages and count-by-weight packages. All stainless steel USDA food grade belt also accommodates unwrapped meats, cheese, or fish applications. Product may be raw, frozen in bags, totes, boxes, cases, barrels, or cans.





110 volt single phase (standard household current) electrical input.




As of this writing, this belt transfer check-weigher is in stock, in EXCELLENT operational, electrical, and mechanical condition, available for immediate shipment.
CALL 315-589-4511 to confirm details and availability, and to discuss your particular food process in-motion weighing equipment needs.

Alard item reference #: Y2494