FITZPATRICK DAS06 INDUSTRIAL IMPACT MILL...

Fitzmill model DAS06 comminutor hammermill for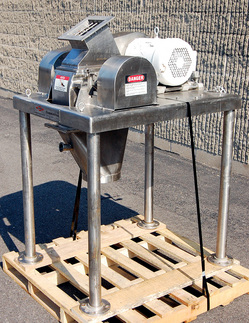 controlled particle size reduction...
6 inch by 6 inch flanged, angled infeed throat at 51 inch infeed height (low side) with safety grid.





6 inch by 11 inch comminuting chamber with powered horizontal shaft now fitted with blunt hammers (other configurations, e.g. sharp blades available) over an interchangable discharge screen. Screen perforation size and shape determines particle reduction size.




Currently fitted with stainless steel screen with 3/16 inch diameter round perforations, other screens available: Call 315-589-4511 to tell us your cutting specification!



6 inch by 14.5 inch flanged discharge.





All food grade stainless steel construction including all product contacts, support base, and legs.





Late Model design with exterior pillow block bearings.





51 inch infeed height, 34 inch discharge height to flange and has removable discharge hopper with 6 inch diameter round discharge descending to a 21 inch discharge height.





Reversible rotor for versatility and blade life.





7.5 HP 208/230/460 volt 3 phase drive.





Belt pulleys on drive shaft and head shaft allow for differnt speed settings depending on which pulley the belt is placed in.

As of this writing, this comminution machine is in stock at Alard in very good operational condition, available for immediate shipment.

Alard item Reference #:Y3163