FPEC INCLINE SCREW CONVEYOR with INFEED HOPPER, Model SC-126, stainless steel...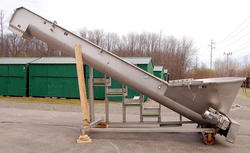 Click on picture for larger, clearer view!

A Food Processing Equipment Company (FPEC) elevating screw feed conveyor, previously used in a USDA-inspected meat processing plant...


70 inch diameter by 50 inch center depth product INFEED HOPPER with partial safety grid.


20 inch diameter by 19 foot long screw auger with 8 inch high flights on 21 inch center spacings.


Hinged top covers on screw section.


Food grade stainless steel construction.



SEW Eurodrive 7.5HP 208/230/460 volt 3 phase drive motor.

As of this writing, this hopper-feeder/ elevating screw feeder is in stock at Alard, available missing discharge end legs but otherwise in good condition available for timely shipment as-is, or can be serviced to excellent condition and completed with newly fabricated support legs for timely shipment, per buyer preference.

Alard item reference #:Y2579