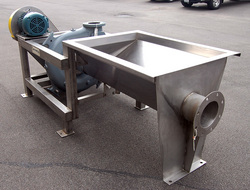 6 INCH HYDRO TRANSPORT FOOD PUMP with STAINLESS STEEL VORTEX TANK and 5 HP DRIVE...

CORNELL 6NHPP-F16K expanded volute (for gentle product handling) cast iron food process pump mounted on a COMMERCIAL stainless steel feed tank and frame with variable speed drive.
42 inch long by 30 inch wide by 20 inch deep stainless steel tapered bottom infeed / vortex tank, with an 8 inch flanged infeed, 2 inch threaded bottom drain, and flexible coupling to the pump.


On this same stainless steel frame the pump is connected to a 5HP belt drive with pulley-typevariable speed control.


Per the manufacturer literature (pump curve available on request) capable of approximately 500 gallons per minute at 55 foot head with solids handling ability for product up to 4" diameter by 6" length.



Cornell's patented expanded offset volute design feature makes for much gentler product handling.

AS of this writing, this hydro food transfer pump is in stock at Alard in EXCELLENT operational, mechanical, and cosmetic condition, available for immediate shipment.

Alard item reference #:Y2619