BROTHERS LEGROW CENTRIFUGAL VEGETABLE SPIN DRYER...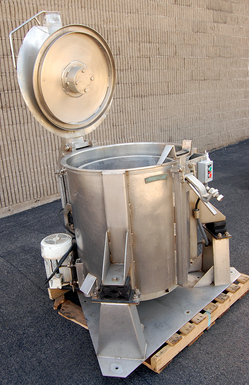 A food grade batch centrifuge system for leafy and/or pre-cut produce products, such as fresh cut lettuce, onions, shredded carrots, and other similar fresh bag ged salad type products...
24 inch diameter by 2 foot deep 6.28 cubic foot removeable dryer basket, with 3/16 inch perforations, manufacturer rated for 140 lbs capacity.





All food grade stainless steel construction including mounting base with rubber vibration isolation mounts.





Operator on/off controls with safety interlock switch on lid (cuts power to machine if lid is opened).





5 HP 3 Phase drive motor with manual foot operated friction brake.




This Brothers industrial salad spinner comes with 4 EXTRA baskets and 2 basket dollies.

As of this writing, this Brothers spin dryer is in stock at Alard, in good operational condition, available for immediate shipment.

Alard item reference #:Y3196