TRAY SEALING MACHINE,
vacuum / gas-flush,
continuous, with through-conveyor,
food grade, stainless steel...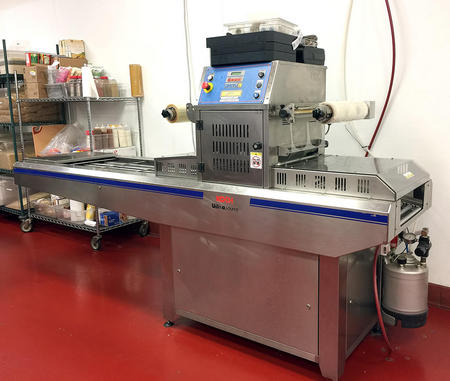 Ilpra Speedy VG TRAY SEALER with:

Configured with vacuum and / or gas-flush capabilities, modified atmosphere packaging (controls can be set for operation with vacuum and gas flush, vacuum only, gas-flush only, or set for atmospheric sealing).


Manufacturer rated for up to 10 cycles per minute (number of trays sealed per cycle depends on tray size, see below).


Currently set up for 8 inch long by 6 1/8 inch wide by 1.25 inch deep trays sealing two trays per cycle.


Manufacturer rates for tray size range (with sealing head change parts) of up to...



1 tray per cycle: up to 15 inches (380mm) by 10.63 inches (270mm).


2 trays per cycle: up to 7.08 inches (180mm) by 10.63 inches (270mm).


3 trays per cycle: up to 4.33 inches (110mm) by 10.63 inches (270mm).


4 trays per cycle: up to 3.15 inches (080mm) by 10.63 inches (270mm).



Bar flight through-conveyor does NOT utilize die plate change parts for container handling, so changeover is much faster, cheaper, and easier than other machine designs.


Open infeed section for manual tray placement.


Integral touchpad operator control panel.


Left to right product flow from operator control position.


Plastic tray seal material.


Food grade USDA sanitary all stainless steel construction.



Original operator instruction manual included.
Previously used for packing salad and entre trays of fresh fruits and vegetables.

As of this writing, this modified atmopshere packaging machine is in en route to Alard, represented by the prior owner as in VERY good operational condition...


Alard item reference #:Y3466