CMI ONION PEELER / SLIT and BLOW ONION PEELING MACHINE, with scorer, tip / butt cutter, and roll / blow air peeler section.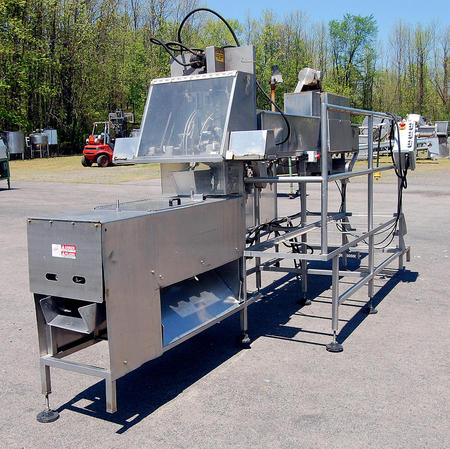 An all stainless steel continuous onion peeling line specifically designed for gentle onion peeling, for preparing whole fresh peeled onions to be packaged whole, cutting onion rings, slabs, or wedge cuts (cutter not included).

~ Manufacturer rated for a nominal throughput capacity of 50 to 60 onions per minute.

~ Hopper infeed for bag-dump or continuous feed from upstream conveyor, feeds onions to circular knife scoring device to score/ loosen the outer epidermal layers of the onion skin.

~ From the scorer the onions drop to a collection pan section where onions are manually placed into clamp-type holders sized for approximately 2.5 inch to 4.5 inch diameter onions. The holders carry the onions through circular top and tail cutter knives which automatically adjust to the size of the onion.


A final roll and blow / air peel / skin removal section features two stainless steel rollers with high pressure air headers above and below the rolls, to remove the outer layers of onion skin (which were loosened in the first two steps).

Powered by fractional HP 3-phase drives. (variable speed controls available as an option).

Manufacturer specifies use of compressed air at approximately 100 cfm @ 100 psi.


Stainless steel support frame includes operator platform.

This onion peeling machine is currently in stock at Alard in good condition, available for timely service and shipment.

Alard Item Ref. #:Y3096