LN2 GAS-FLUSH DOSER for containers...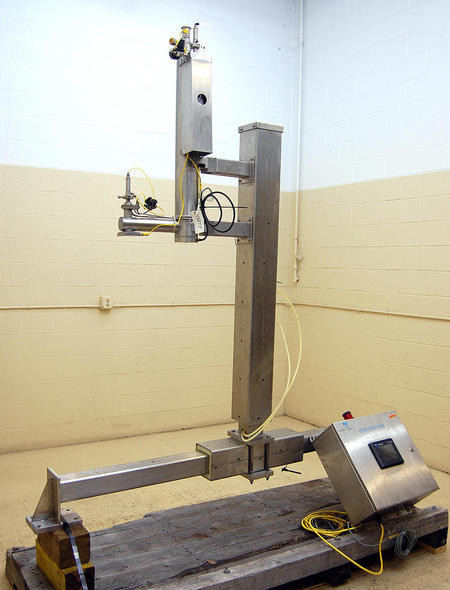 Vacuum Barrier Corporation Model Nitrodse G2 precision liquid nitrogen dosing system for middle speed container lines. Nitrodose liquid nitrogen injection systems are used to pressurize delicate packages, or inert internal package / container atmosphere to prevent product oxydation.

FEATURES:

Configured to mount over an existing container line, to consistently and accurately dose LN2 (liquid nitrogen) into bottles, jars, cans, trays, cups, or other containers, to displace ambient gasses such as oxygen, for product preservation, discoloration prevention, as well as pressurizing containers / contents, in modified atmosphere packaging applications.


A precise drop of rapidly expanding LN2 into hot or cold fill lightweight packages provides consistent pressure, eliminating paneling or palletizing problems. NITRODOSE systems also inert packaged foods, reducing O2 absorption to extend shelf life.


Support frame with telescoping tubular stainless steel horizontal and vertical columns to facilitate dosing head alignment and height setting for efficient container filling; as well as convenient access for cleaning and maintenance.


All food grade sanitary stainless steel.


Complete with cable-connected (for remote positioning) stainless steel operator control box with Allen Bradley Panelview 600 controller.



Manufacturer rated for...
...discrete dosing at speeds up to 450 containers per minute; can run at higher speeds but with continuous stream of liquid nitrogen.





Automatic synchronization with speed and dose compensation (larger doses are required when there is more time for the nitrogen to boil off when there is more time between the doser and the capper, smaller doses when the line speeds up).





Accurate dose rate of +/- 3%.





Maximum direct LN2 feed pressure 100psi (6.9 bar).





Required air pressure 50-100psi (3.4 - 6.9 bar).




Lowest dosing pressure 0.3 (0.02 bar).


110 / 220 volt single phase electrical input.

As of this writing, this LN2 dosing system is in stock at Alard, in VERY good condition, available for immediate shipment. CALL ALARD at 315-589-4511 for current availability, and to dicuss your nitrogen dosing needs.

Alard item reference #:Y3277