CHECKWEIGHER and METAL DETECTOR COMBINATION FOOD PRODUCT INSPECTION SYSTEM...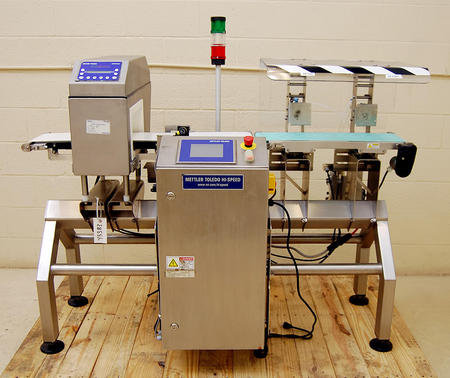 A Safeline / Mettler Toledo Metal Detection and Checkweighing combination system for compact, one-process, space saving, customer and brand reputation protection. This combined pairing features...


Safeline digital FOOD METAL DETECTOR with 4.25" high by 10.75 inch wide net USABLE aperture with the conveyor belt in place.


A 24 inch long by 8 inch wide rubberized product transfer belt carries product through metal detector onto weighcell.


All stainless steel metal detection head enclosure, with integral touch pad operator control panel.


Mettler Toledo model WXC-CC CHECKWEIGHER with 9.5 inch long by 7 inch wide weigh-belt with 4.5 lb (2000 gram) weighcell.


PUSH-OFF REJECT - 24 inch long by 8 inch wide discharge section / takeaway belt under clear plastic guards, with twin pneumatic pushoff reject cylinders,
pushing off to the right of the product flow.


Reject signal beacon, in addition to aforementioned push-off.



36.5 inch working height on adjustable feet.
All food grade sanitary stainless steel construction

As of this writing, this combination metal detection and checkweigh system is in stock at Alard, in EXCELLENT operational, mechannical, and cosmetic condition, available for timely shipment. CALL 315-589-4511 to confirm current availability!

Alard item reference #:Y3383