FOOD PROCESS METAL DETECTOR with BELT CONVEYOR, 14x8, all STAINLESS STEEL...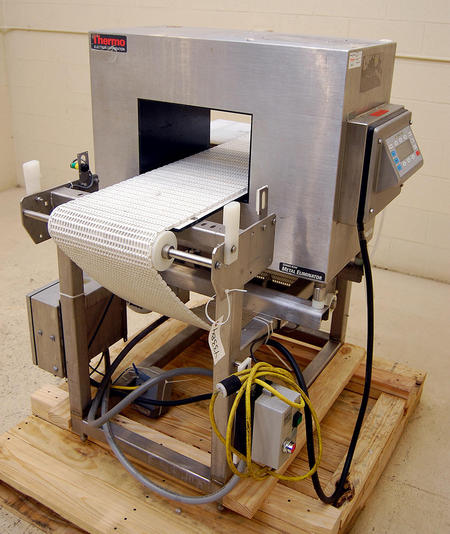 A Thermo Goring Kerr model DSP3 stainless steel metal detection head on a stainless steel belt transfer conveyor, with reject system.

FEATURING...


8 inch high by 14 inch wide USABLE opening in the metal detector search head with the conveyor belt in place.


Stainless steel detection head with integral digital operator control panel with touch pad controls.


12 inch wide by 46 inch long conveyor with food grade perforated plastic inter locking chain type belt.


Left to right product flow from operator control position.


REJECT SYSTEM: Pneumatic air blast blow-off reject pushes contaminated product off to the left of the product flow, with alarm buzzer.


+/- 35" working height with adjustable feet.

Complete with plastic conveyor control box with start / stop / reset button, and a separate safety emergency stop button positioned for accessibility.


All food grade sanitary stainless steel construction.



110 volt single phase (standard household current) electrical input for system.

As of this writing, this food grade industrial process metal detection / productinspection system in in stock at Alard in very good operational and mechanical condition, and is in the process of being cleaned and service to excellent cosmetic condition as well. CALL ALARD at 315-589-4511 for current availability, and to dicuss your metal detection needs in detail.

Alard item reference #:Y3384