TRAY SHRINK WRAPPER-BUNDLER with HEAT SHRINK TUNNEL...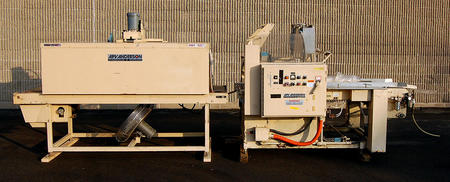 A continuous, automatic, bundling system manufacturer rated for bullseye tray shrink-wrapping with polyethylene film ideal for trays of cans, jars, or bottles into bundles with small openings in the wrapping at each (long) end.

FEATURING:

APV Anderson TRAY WRAPPER Model 464-2, with bar flight infeed, three sealing bars, and static elimination bars (top and bottom).


Anderson APV Model 480-4 heat shrink tunnel, 6 feet 6 inches long, including underside cooling fan.


Integrated system manufacturer rated for up to 28 trays per minute.


Trays / packages / bundles up to 24 inches wide by 15 inches long by 12 inches high.


Painted steel tubular frame construction and exterior shrouding.



Complete with operator controls, 230 volt 3 phase electrical input.

Polyethylene Film Bundle Wrapping and Shrink-wrapping is also known as tray wrapping (when items are wrapped inside corrugated cardboard trays), bullseye wrapping (due to the bullseye shaped hole on two of the sides where the film is not sealed), and Poly Bundling. There are even more names for this process, as some manufacturers refer to this equipment as shrink-wrapping equipment.

The shrink bundler described above does shrink-wrap in the sense that the product is first wrapped in polyethylene film and then that film is shrunk down with hot air around the product, but for some parts of the packaging industry, shrink-wrapping typically refers to the process of wrapping a product in Polyolefin film. Unlike polyolefin shrink-wrap, bundle wrapping or tray wrapping is done with polyethylene film that is much thicker and more durable (typically 1.5 – 2.5 millimeters thick compared to .0125 – .025 millimeters for most Polyolefin shrink film).

The greater thickness, strength, and durability or Polyethylene film used in bundling, in addition to the significantly lower material cost, make poly bundling or bundle wrapping the obvious choice for larger and heavier items such as: glass or plastic jars or bottles, food and drink items, and larger or heavier multipacks or assortments. In addition to the greater durability, polyethylene bundle wrapped packages tend to grip better (or in other words are less slippery) than polyolefin shrink-wrapped packages. This means that polyethylene film wrapped product in corrugated cardboard trays can often be stacked directly on top of one another on pallets (when the product itself can directly support it), saving on the additional cost and bulk of shipper cartons, cases, and/or plastic crates.

As of this writing, this fully automatic heat shrink wrapper system is in stock at Alard, in good condition

Alard item reference #:Y1670