8 ROLL CONTINUOUS PEELER SCUBBER WASHER, Lyco Raging BULL JR. Model 8000E...

FEATURING:

8 peeling/scrubbing rolls each 5.25 inch diameter by 80 inches long; can be set wtih any combination of abrasive or poly brush rolls to buyer need / specification for stronger or gentler peeling / scrubbing action.


Full length powered center METERING SCREW AUGER controls product retention and provides consistent peeling action for all product run.


Individual electric drive motors for each two rolls (Four drives total), with an independent drive for the indexing/metering auger.


Overhead stainless steel spray header to flush peels and/or debris from product.


Bottom collection pan with open bottom discharge.


Tilt-open top cover with pneumatic operated power lift cylinder.


All food grade sanitary stainless steel construction, including support frame.


Manufacturer recommended for after-steam peeling, or stand-alone raw product peeling, for root crop vegetables such as potatoes, carrots onions, beets, as well as a variety of other vegetables and fruits.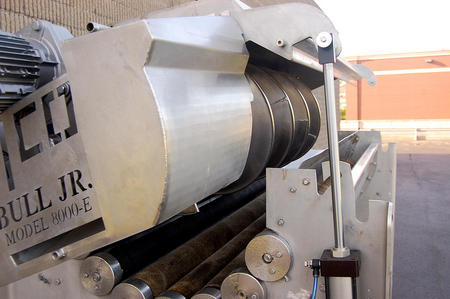 AS of this writing, this abrasive roll peeler / brush-washer is in stock at Alard, needing new rolls to buyer specification, but otherwise in EXCELLENT operational, mechanical and cosmetic condition. CALL ALARD at 315-589-4511 for current availability, and to discuss your fruit and/or vegetable peeling, scrubbing, washing needs.

Alard item reference #:Y3195