URSCHEL MODEL GRL




FRENCH FRY CUTTER / POTATO STRIP CUTTER...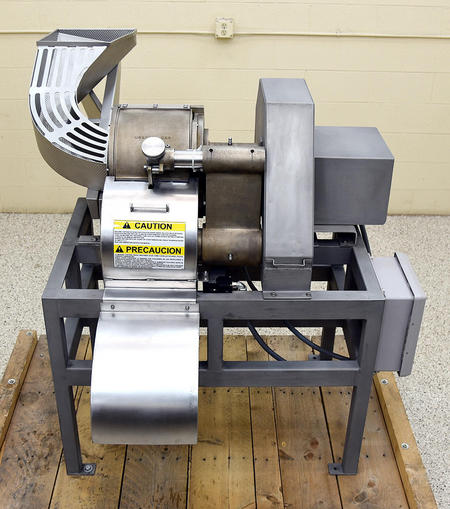 Designed specifically for strip cutting plain and crinkle cut potato strips / french fries, with transverse fracturing and feather edges of french fry pieces minimized, and longer cuts produced with greatly reduce scrap.


FEATURES:

Manufacturer rates for potatoes up to 9 inches (230 mm) in length.


A two-dimensional cutter:



Slice thickness knob adjustable up to 9/16 inch (14.3mm).


Came in with and currently equipped with a 7/16 (11.1mm) inch crosscut knife spindle (11.1mm). Other cross cut spindles are available; --CALL for current availability, and to dicuss your particular cutting specifications.



Complete with aftermarket safety interlock system which cuts power to the machine if safety guards are removed.


Low maintanenace, only two moving parts.


Bead blasted stainless steel frame and shrouding.


"Urschalloy" slice shell and impeller.



2 HP 3 phase drive.

As of this writing, this Urschel GRL potato strip cutting machine is in stock at Alard, in EXCELLENT operational, mechanical and cosmetic condition, available for timely shipment.
CALL 315-589-4511 to confirm current availability, and to dicuss your particular vegetable cutting need.


Alard item reference Y3478