LYCO ROTARY DRUM COOKER COOLER,
72 inch diameter by 20 foot long,
Model 8900.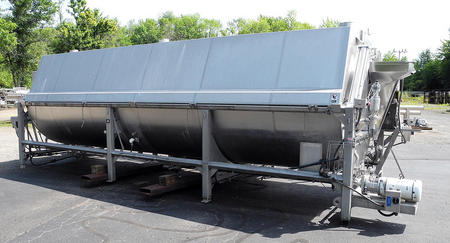 A Lyco model 72" X 12' / 8' C/C rotary drum cooker-cooler...

FEATURING:

12 foot long cook zone / cooking reel connected by a transfer zone to a separate but integrated 8 foot long cool zone / cooling reel. Each zone / reel has it's own drive.


1/16 inch drum screen perforations.


Food grade USDA sanitary stainless steel construction, with removable screen panels on the cooking and cooling reels for cleaning and sanitation.


Dimpled (non-stick) stainless steel infeed and discharge chutes.


Built in CIP system including centrifugal pump for sanitation.


Water cushioned infeed flume, with centrifugal pump.



Each drum has it's own drive (7.5HP cook drum, 5HP cooling drum), and each of the (2) centrifugal pumps (one at each end) are 15HP. All the drives are 208 / 230 / 460 volt.

Manufacturer literature recommends for pasta, rice, dry beans, green beans, carrots, corn, mushrooms, beets, potatoes, and many other vegetable and fruit products, at throughput rates depending on product density and hold times, from approximately 15,000 lbs per hour up to 185,000 lbs per hour.

As of this writing this late model Lyco BLANCHER - COOLER combination is in stock at Alard, in very good mechanical condition, available for immediate shipment.

Alard item reference #:Y3611