FITZPATRICK INDUSTRIAL IMPACT MILL, 25HP, stainless steel...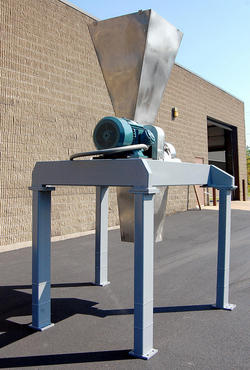 A Fitzmill Model FASO-20 comminutor hammermill, for controlled particle size reduction in food processing applications...

FEATURING:


3 foot square tapered stainless steel infeed hopper with pouring grid.


20 inch wide by 8 3/8" long "throat" opening from the hopper to the reversible stainless steel cutting chamber.


Comes with 2 sided stainlesss steel hammers, sharp on one side, blunt on the other. Other hammer / knife parts for this comminuting machine are readily available; CALL 315-589-4511 to discuss your specific cutting / grinding milling application.


Stainless steel screen cage beneath hammers / knives determines cut cut size / particle size output; --CALL 315-589-4511 to discuss your particular particle size reduction requirement.


Stainless steel discharge chute 3 feet deep, with a 16 inch by 14 inch bottom discharge opening.


Food grade, all stainless steel product contact surfaces.


5 foot high painted steel legs.


Water cooled bearings.



208/230/460 volt 3 phase 25 HP drive.

As of this writing, this Fitzpatrick mill is in stock at Alard, in EXCELLENT operational mechanical and cosmetic condition, and available for immediate shipment.

CALL 315-589-4511 to confirm availability, and to discuss your particular food product particle size reduction needs.

Alard Reference #: Y3558