100 GALLON KETTLE with single motion SCRAPER-AGITATOR, self-contained, electric, stainless steel...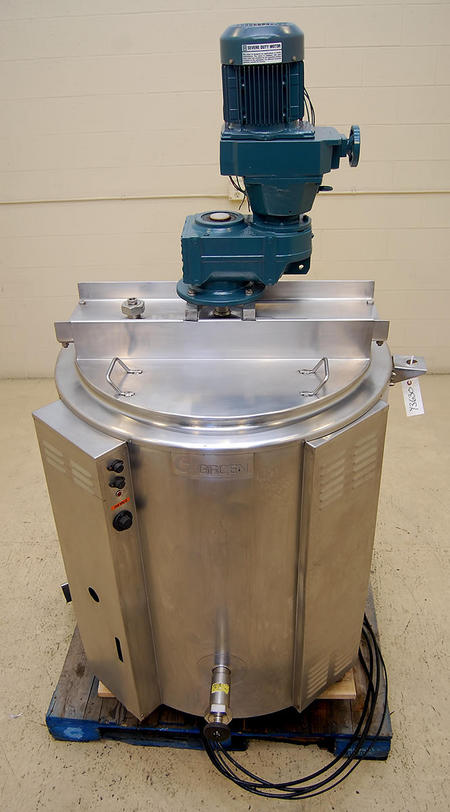 A Groen model EE-100 cooker / mixer, self contained with electric heat, manufacturer recommended for a wide variety of applications, including soups, stews, sauces, pudding, pie fillings, powdered mixes, and other foods that require mixing during the cooking process.

FEATURING:

32 inch diameter by 36 inch deep hemispherical bottom stainless steel cooking kettle, with 2 inch side bottom outlet with Triclamp connection, and plunger valve included.


Stainless steel single motion scrape surface agitator, with variable speed 1.5 horsepower mixer drive, on a stainless steel bridge.


Integral electrially powered heating system, does not require an external boiler.


Steam jacket manufacturer tagged, national board coded and U-stamped for 30psi at 300 degrees Fahrenheit.


(2) removble stainless steel covers.


All food grade sanitary stainless steel steel construction.


208 / 230 volt 3 phase 90 amp electrical input.


As of this writing, this Groen cooker-mixer is in stock at Alard in EXCELLENT operational, mechanical, electrical and cosmetic condition, and available for immediate shipment...

CALL 315-589-4511 to confirm availability, and to discuss your particular food process cooker / mixer need(s).

Alard item reference #: Y3630