SILVERSON MODEL 400LS HIGH SHEAR IN-LINE MIXER PUMP with DRIVE...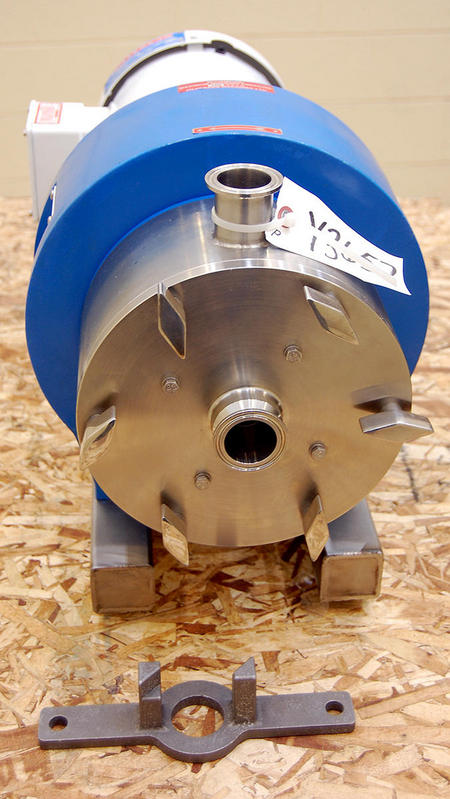 STAINLESS STEEL HIGH SHEAR PUMP / INLINE MIXER manufacturer recommended for a wide variety of applications including mixing, emulsifying, homogenising, disintegrating and dissolving, via single pass continuous blending, series processing, and/or pre-mix blending, depending on user requirements.
HIGH-SHEAR PUMP / EMULSIFIER configuration can in many cases replace an existing centrifugal pump to provide both processing and pumping benefits.


FEATURES:
1.5 inch inlet and outlet with sanitary Tri-Clamp connections.


Front center inlet at 8 inch infeed height, top discharge height 14.75 inches.


6.75 inch emulsifier chamber.


Mixer and motor mounted on tubular stainless steel frame members.


5HP 208/230/460 volt 3600 RPM 3 phase direct drive washdown motor.


Corrosion resistant 316 type stainless steel pump-mixer head construction.


Food grade sanitary, manufactuerr stamped for USDA / 3A dairy and GMP sanitary standards.


Equipped with square hole high shear screen.


Provides exceptionally high shear rates ideal for rapid size reduction of soluble and insoluble granular solids, preparation of emulsions, and fine colloidal suspensions.


A range of different workheads (stators/screens) are available from the manufacturer for different application needs.


Single-pass inline mixing - Hi-shear in-line mixing improves throughput, while avoiding aeration.


Series Processing: If a higher degree of homogenisation or comminution is required than can be obtained from a single-pass, it is possible to achieve the required result by recirulation, or by using two or more machines.


Pre-mix Finishing: Where ingredients are coarsely pre-mixed in a holding vessel, a single pass through the inline mixer will ensure an agglomerate free homogenous product.



Late model, new 2016.

As of this writing this high-shear inline blender is in stock at Alard, in like new condition, available for immediate shipment.
CALL 315-589-4511 to confirm availability, and to discuss your particular food equipment needs.

Alard Item Reference #:Y3657