QUADRO YTRON XC




IN-LINE DISPERSER / POWDER-LIQUID MIXER...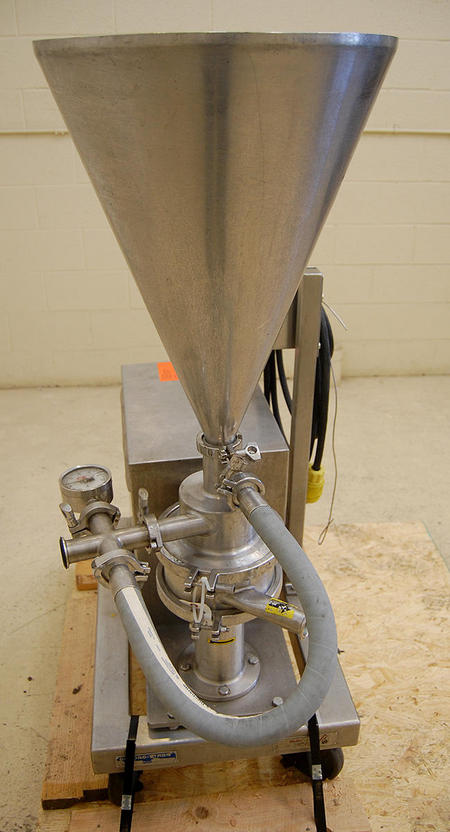 A Quadro Model XC high-shear liquid-powder mixer for inline dispersion of powders into a liquid stream, at high concentrations. Similar to a Tri-Clover Tri-Blender hybrid powder mixer. Has a "dual stage reactor" which creates a strong vacuum to pull powders from the feed hopper, and disperse them into liquid for food, beverage, and dairy applications, for high-capacity single-pass inline powder dissolution, mixing wet and dry ingredients into a homogenous blend.
FEATURING:
18 inch diameter by 23 inch deep steep-walled conical dry product infeed hopper, tapers to 2 inch diameter infeed.


(2) 4.25 inch diameter impellers in blending chamber.


The hi-shear impellers are driven by a 7.5 HP 3 phase drive that generates 5400 RPM at the impeller.


1.5 inch liquid infeed, 1.5 inch blended product discharge and a 1 inch CIP inlet all with Tri-clamp connections.


64 inch infeed height, 23 inch discharge height on stainless steel base.


3A rated CIP system for cleaning.


Food grade sanitary stainless steel, manufacturer tagged for USDA and 3A dairy sanitary standards.


Manufacturer literature rates for 40 to 70 gallons per minute liquid, up to 150 lbs per minute powder capacity (depending on the flow charcteristics and bulk density of the powder), and concentrations of up to 40% by weight can be produced in a single pass. NOTE: These ratings are dependent on tooling and product characteristics,



Manufacturer literature recommends for mixing milk powders, whey powders, protein powders, gums and stabilizers cocoa, sarches, maltodextrin, ice cream mixes, drink syrups and concentrates, infant formula, yogurt mixes, liquid beverages, nutraceutical powders, antacids, cough syrups, cell cultures and growth media, gelatin, pigment dispersions, paint, oxides, pigments/stabilizers, coatings, inks, resins textile colors, cleaning solutins, carbon dispersion, and more.

As of this writing this Quadro XC Powder Disperser / inline liquifier is in stock at Alard, in very good operational condition, available for timely shipment.
CALL 315-589-4511 to confirm availability, and to discuss your particular blending and emulsifying equipment need.
Alard item reference #:Y3659