VIBRATORY SEPARATOR SCREEN,
ROUND 30 inch diameter, two deck, stainless steel...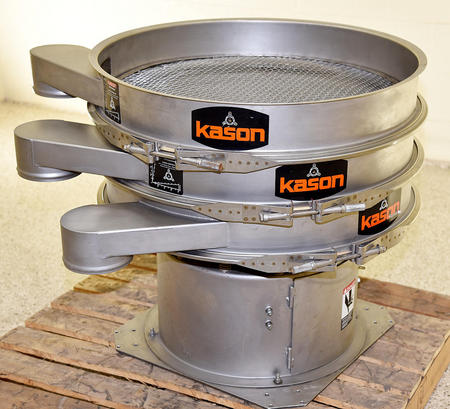 A Kason Virbroscreen Model K30-2-SS, with two screening levels, for separating solids from liquids in dewatering / wastewater recovery applications, for size grading of granular, particulate, and other solids, for powder sifting, fines removal, scalping, and other such screening applications.

FEATURES:


30 inch diameter stainless steel screen, two 4.5 inch high stainless steel deck rings, over a 4.5 inch deep stainless steel bottom pan ring.


Each ring has an 6 inch diameter discharge spout.


Other deck / screen configurations are available for grading applications:


CALL 315-589-4511 to discuss your food process screening, grading, dewatering, and / or solids separation needs.



Shown in pictures with a 1/4 wire mesh screen. Other sieve sizes and types of screen materials are available to buyer specification;

--CALL 315-589-4511 with your screen specs.



30 inch infeed height, 25 inch top ring discharge height, 20 inch middle ring discharge height, 15 inch bottom ring dischargd height.


All food grade stainless steel construction screener, including stainless steel base.



Internal fractional horsepower 208 / 230 volt 3 phase eccentric drive.

As of this writing, this 30 inch vibrating screen in in stock at Alard in EXCELLENT operational, mechanical, and cosmetic condition, available for immediate shipment.

CALL 315-589-4511 to confirm availability, and to discuss your particular specifications.

Alard item reference #:Y3762