COMBI Model 2EZ
AUTOMATIC CASE ERECTOR
with BOTTOM TAPE SEALER...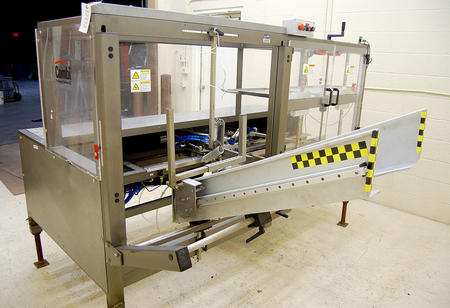 An automatic case erecting machine with an integral 3M bottom taper built for versatility, durability and reliability to run in demanding industrial food processing and packaging line requirements.

FEATURES:
Manufacturer rated for...

Case sizes from 9 inches to 19 inches long, 6 inches to 16 inches wide, and5 inches to 18 inches high.

...at a speed of 12 cases per minute...

...with easy load magazine with easy changeover for different case sizes.



Right-hand machine with left to right carton flow - formed cases are transferred to the right (from the perspective of one staning in front of the case blank magazine) to be taped.


Plexiglass safety enclosure.


110 volt single phase (standard household current) 20 amp electrical input.



Requires 80 PSI air supply, with pneumatic consumption of 1 cubic foot per case.

As of this writing, this automatic box erector tape sealer is in stock at Alard, in very good operable condition, available for timely shipment.

CALL 315-589-4511 to confirm availability, and to discuss your particular food packaging equipment needs.

Alard item reference #:Y2272