BENCHTOP LIQUID PUMP FILLER with stand...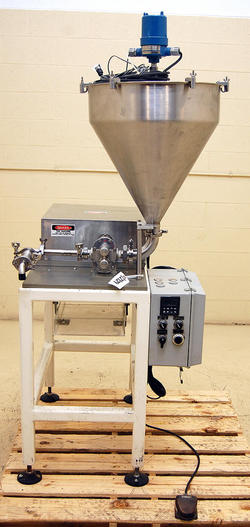 A General Packaging Equipment model LPD25 LIQUID POSITIVE DISPLACEMENT PUMP...

OPERATIONAL SYNOPSYS:
This liquid filling machine operates on the prinicipal of a positive displacement (PD) pump with two gears rotating inside a pump housing to move liquids in from a hopper and out through a fill tube. As with any positive displacement pump, this approach is best used for viscous liquids such as sauces, fats and oils shear sensitive liquids, slurries, emulsified liquids, batters, frostings, flavorings, baby foods, fruit puree, puddings, jams, jellies, dressings, syrups, creams and lotions, shampos, pastes, etc, etc.


Every revolution of the pump drive shaft draws a prescribed amount of liquid through the pump.


Inside the pump are two gears; one on top attached to the drive shaft and another below it attached to an idler shaft. Liquid, brought in from the hopper through the suction port, surrounds the gears and is driven through the discharge port as the gears turn.


The pump is diven by a variable speed drive which is turned on and off for each fill.


The amount of product dispensed is controlled by a timer and a pulse encoder which is driven by a belt and a timing pulley on the motor shaft.


The amount of product dispensed and rate of product flow is regulated via the operator control box.


FEATURES:
Currently set for semiautomatic footpedal activation. Could easily be set for automatic operation with photo-eye or relay activation.


21 inch diameter by 32 inch deep stainless steel conical infeed hopper with 1.


75 inch side inlet to hopper, with bolted-on cover, with top cover mounted level sensor.


3/4 inch diameter discharge spout


A food grade all stainless steel countertop / bench-top pump filler with all stainless steel product contacts, on a stainless steel base plate.


Presently / comes sitting on / mounted on a painted steel frame stand with PVC control box mounted to the stand.


PVC control box mounted on bottom stand, with operator controls for portion size and fill rate.



1HP 230v/460v 3ph 1725/1425 RPM pump drive.

As of this writing, this positive displacement liquid pump filler is in stock at Alard, in good operable condition, available for timely shipment.
CALL 315-589-4511 to confirm availability, and to discuss your particular food product filling equipment needs.

Alard item reference #:Y2929