BAG FILLER TABLE, 2-station,
stainless steel, with scales, holders...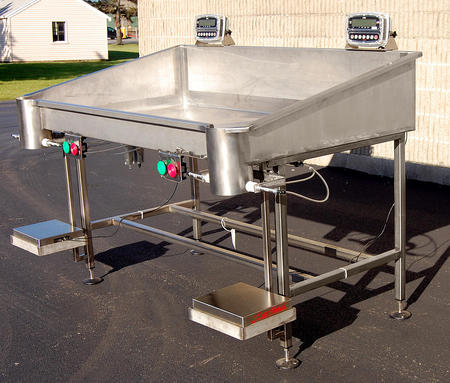 A 2-spout food-grade stainlesss steel bag filling table with weigh scales and bag holers for filling by precut produce products into bags by weight; --such as freshcut vegetables, leafy salad mixes, florettes, and fresh whole peeled food products....

FEATURES:
This stainless steel two-person bagging table is 40 inches long by 5 foot 9 inches wide and has sides that taper from 14 inches high at the back down to 6 inches high at the front.


(2) 30lb electronic washdown scales, each with an over-under remote readout display head mounted at eye level.


Each filling station has a standard 6.25 inch diameter filling tube, which can be fitted with an (optional) stainless steel filling funnel for larger or smaller bag sizes where needed.


Each filling tube is equipped with a stainless steel pneumatic bag holder to keep the bag held in position during the filling process.


Beneath each bag holder is a 10 inch by 10 inch stainless steel weigh cell platform which is (height) adjustable to accommodate different bag lengths.


All food grade sanitary stainless steel construction.



NEW.


OPERATION:
Each operator hangs a bag on their filling funnel, and engages the bag holder by pressing a button.


The operator then pulls product from the table into the filling tube until the proper weight is made (and can easily remove a bit of product if needed).



The operator then disengages the bag holder and removes the bag, puts a new bag in place,and the process is repeated.

As of this writing this 2-hole bag filling table is NEW in stock at Alard, fully assembled, ready-to-go, and available for immediate shipment.

CALL 315-589-4511 to confirm availability, and to discuss your particular pre-cut produce packing table / bag filling equipment needs.

Alard item reference #:Y3572