THREE-LEVEL INSPECTION CONVEYOR,
stainless steel, 14 feet long...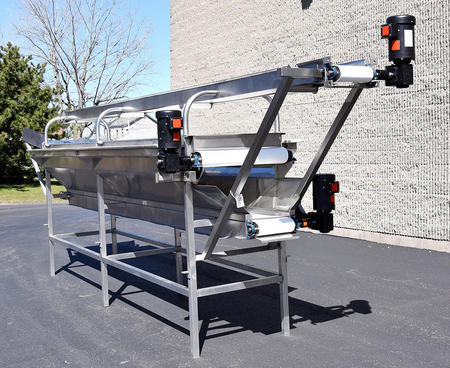 A food-grade stainless steel inspection and sorting conveyor, with three conveyor belts, for sorting, hand-trimming, coring, grading, quality inspection, and / or for packing fruit and vegetable products into boxes or cases; --particularly in the context of freshcut or pre-cut produce and other
industrial food processing applications. Consists of a main pick belt with bottom waste takeaway conveyor, and top picked / good product takeaway conveyor.
FEATURING:
Tapered stainless steel feed chute 44 inches wide at infeed, by 21 inches long.


MAIN inspection and sorting conveyor has a 14 foot long by 30 inch wide belt, providing room for 10 workstations (5 per side) a 10 person line (or more).


The main sorting belt is surrounded by 5 inch high stainless steel sides including a "dam" at the end to detain any un-picked product until it can be handled.

The main belt runs between NEW UHMW plastic 6 inch wide coring, trimming, cutting boards running along the full length of each side of the belt.

Between the main belt and the cutting boards is a stainless steel trash and trimmings chute on each side of main belt discharging onto the bottom belt.



BOTTOM bottom trash and trimmings takeaway conveyor belt 15 feet 3 inches long by 12.5 inches wide.


TOP finished product takeaway belt measures 20 feet long by 10.5 inches wide.

Top belt extends approximately 32" beyond bottom trash belt discharge.



Has all (3) new food grade white rubberized belts.


Stainless steel belt rollers with new bearings.



Tubular stainless steel frame configured for...

75 inch infeed height to feed chute.

70 inch top level conveyor working height.

61 inch working height main/ middle sorting belt level.

40 inch waste and trimming conveyor working height.


(3) new 1HP 208/230/460 volt 3 phase gearmotor conveyor belt drives.



Food grade stainless steel construction.

As per this writing, this food grade stainless steel 3-level inspection trim and pack conveyor system is in stock at Alard, in EXCELLENT operational, mechanical, and cosmetic condition, available for immediate shipment.

CALL 315-589-4511 to confirm availability, and to discuss your particular food process grading, inspection, and packing need.

Alard item reference #:Y3637