HEAT AND CONTROL Model BP36 BATCH PEELER,
36 inch, stainless steel...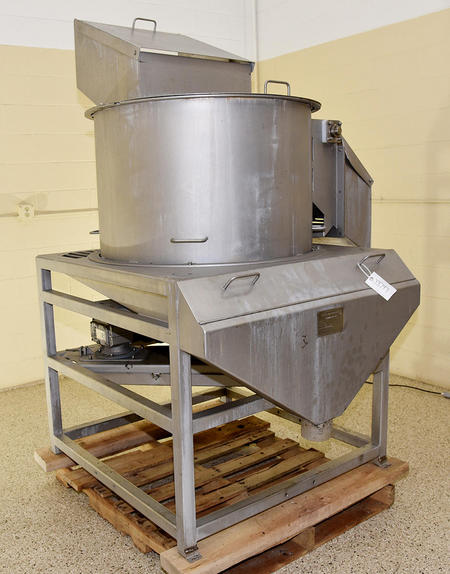 A high capacity abrasive batch peeler manufacturer rated for up to 7,000 lbs per hour throughput capacity...
FEATURING:
Abrasive bottom mobilizer disc and peeling cylinder walls.


Wave shaped mobilizer disc agitates product to expose all product surfaces to abrasive surfaces for uniform peel removal.


Adjustable batch size and dwell time.


Abrasive surfaces are easily changed to suit product requirements.


Compact design requires less floorspace than a continuous peeler.


Feed hopper pivots, for access so all abrasive surfaces can be removed for ease of cleaning.


Product is confined inside a peeling chmber to deliver greater control than continuous peelers. Product does not escape peeling by bouncing on abrasive rollers.


36 inch diameter by 17 inch deep peeling chamber.


Food grade stainless steel construction.


AS of this writing this high capacity batch peeling machine is in stock at Alard Equipment Corp, in good operable condition, available for immediate shipment.
TWO-STAGE PEELING OPTION - while we are offering each peeler individually at a per-peeler price, we have available in stock, as of this writing, two matching Heat and Control model BP-36 batch peelers, which manufacturer literature states can be used in tandem in a coarse-peel and finish-peel process to provide higher peeling quality and quantity.
CALL 315-589-4511 TO confirm availability, and to discuss your particular root crop vegetable peeling specifications.

Alard item reference #:Y3797