PICK WATER HEATER Model 6x10, DIRECT STEAM INJECTION LIQUID HEATING PACKAGE SYSTEM.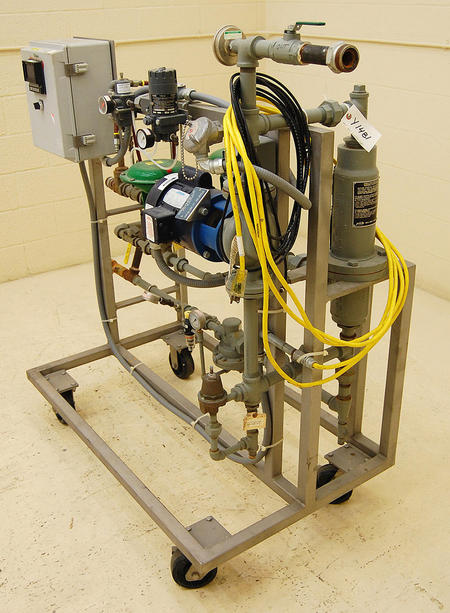 A PICK HEATERS Model 6x10, variable flow hot water heater package configured to instantly deliver hot water at a precisely controlled temperature over a wide range of water flows. This Pick heat exchanger will reliably supply hot water for applications with frequent start-stop cycles. Manufacturer literature describes as ideal for a central utility heating system for multiple use points such as wash-down stations and plant sanitation...

FEATURING:


Heat exchanger manufacturer rated for 1 to 20 gallons per minute with a temperature rise of 155 degrees Fahrenheit.


Steam capacity of 1250 lb/hour.


Uses 100 - 120 psi steam pressure and 60 psi water pressure.


100% heat transfer - cuts fuel costs up to 30% compared to indirect heat exchangers.


Eliminates harmful vibration and steam hammer.


Smooth, quiet operation within acceptable dBA limits.


Manufacturer recommended applications include multiple hose stations, plant sanitation, can topping, can washing, filter back flush, freezer belt defrosting, laundries & industrial process water.


This direct steam injection packaged system comes mounted on stainless steel frame with 5 inch locking casters for mobility.


Digital control box which allows operator to "Set it & forget it" and maintains water temperature +/- 3 degrees Fahrenheit,regardless of changes in flow.



110 / 220 volt single phase electrical input.

As of this writing, this PICK HEAT EXCHANGER is in stock at ALARD, in GOOD condition and available for immediate shipment.

CALL 315-589-4511 for current availability, and to discuss the details of your food product handling needs.

Alard item reference #: Y1481