HANDTMANN VACUUM STUFFER / FILLING MACHINE, model VF200...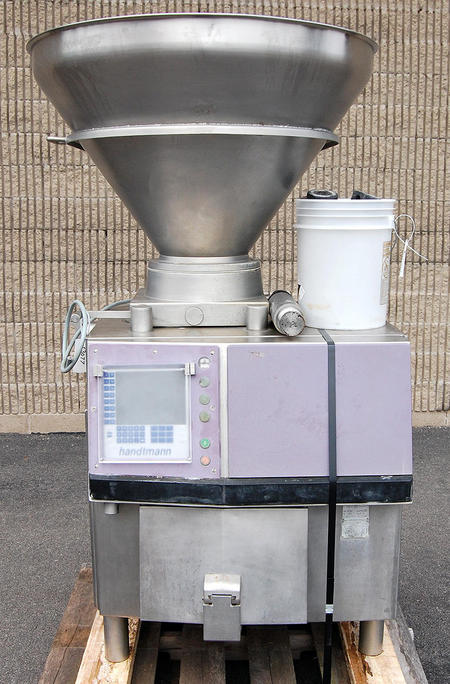 A vane-type continuous vacuum stuffer filler / stuffer for filling meats, cream
cheeses, and other viscous products under vacuum.

MANUFACTURER RATED for:

200 to 380 portions per minute depending on fill / link size.


Pumping / filling pressure up to 500 psi / 35 bar.


Up to 11,000 lbs (5000 kg) per hour filling capacity.


Hopper capacity 63 gallons / 240 liters.



Electrical impulse control for clipping machines


FEATURES:


Standard 16 vane filling configuration, manufacturer recommended "for all meat types, e.g. cooked sausage, blanched sausage, raw sausage".


Digital portion control operator control panel.


Food grade USDA sanitary stainless steel construction.


230/460 volt 3 phase 15amp drive.


Comes with 12 inch leg extensions (show in bucket in pictures).


This vacuum filling machine can be used with multiple accessories such as portion control devices, a sausage linker etc.



As of this writing, we have a Handtmann PHL-216 sausage linker-hanger (reference #: Y3079) in stock available separately; --call 315-589-4511 for current availability and more information.

As of this writing, this Handtmann VF200 vacuum stuffer is in stock at Alard in good condition, available for timely shipment.

CALL 315-589-4511 to confirm availability, and to discuss your particular vacuum stuffer equipment needs.

Alard item reference #:Y3077