HANDTMANN AL-SYSTEM PLH216 LINKER with HANGER...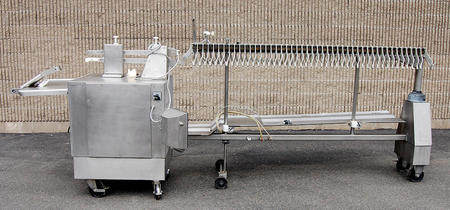 A Handtmann PLH-216 automatic-linker with hanging system manufacturer recommended for automatic sausage production, portioning and linking with equal lengths hanging in sheep's casing, collagen, or peel-off casing, or large-caliber pig's casing, in tandem with a Handtmann Vacuum Filler.


MANUFACTURER RATED FOR:
Up to 700 portions per minute (in natural casings).



Useful nozzle lengths:

standard 425mm for slugs with closed end,

395mm for slugs without closed end,

reduced nozzles 250mm with closed end

220mm without closed end.



Natural, collagen, peel-off casing caliber .5 inch (13mm) to 2 inches (50mm).



Smoke stick lengths:

2 smoke sticks up to 41 inches (1060mm) long,

3 smoke sticks up to 39 inches (1000mm) long,

2 smoke sticks up to 59 inches (1520mm) long.
Food grade USDA sanitary stainless steel construction.


Hanger powered by linker.



230v 3ph electrical input.

This automatic linker-hanger machine is built for use with a Handtmann vacuum stuffer filling machine. At the time of this writing, we have a Handtmann VF-200 sausage stuffer (reference #: Y3077) in stock available separately; --call 315-589-4511 for current availability and more information.

As of this writing, this Handtmann PLH216 linker-hanger is in stock at Alard, in very good condition, available for timely shipment.

CALL 315-589-4511 to confirm availability, and to discuss your particular food equipment needs.

Alard item reference #:Y3079