ONION PEELING LINE,
Sormac Model USM-1


ONION PEELER

...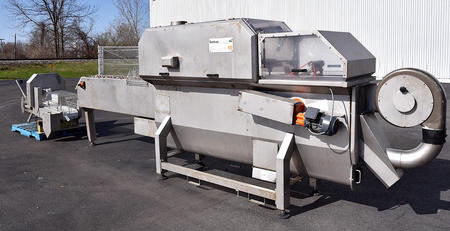 A Sormac (formerly Backus) onion peeler system, consisting of an onion trimmer-scorer, with roll and blow finishing section, and bottom waste / peels discharge auger.

FEATURES:


Manufacturer rated for

Onions sized from 2 inches (50mm) to 4 3/8 inch (110mm) in diameter.

Throughput capacity up to 100 onions per minute.



23 inch by 28 inch infeed hopper with elevating / singling conveyor.


48 inch long roller inspection section with manual orientation for tip and butt cutting.


ONION TRIMMING and SCORING section with spring loaded knives, automatically adjusts to onion size. Trims the tip and butt of the onion, and scores the epidermal layers of the onion to facilitate peel removal.


Roll and blow FINISHING section to remove the loosened onion skins so as to produce clean, trimmed, fresh whole peeled onions.


6 inch square finished product discharge at a 15 inch discharge height.


12 inch by 15 inch bottom discharge auger for rejects from inspection section and waste peels from peeling section.


Complete with operator control panel with safety interlock; --cuts power to the machine is doors / safety guards are opened.


Requires 70 cfm @ 100 psi pneumatic / compressed-air supply and 460 volt 3-phase electrical input.



Food grade stainless steel construction.

As of this writing, this SORMAC USM onion trimming and peeling system is in stock at Alard, in good condition and available as-is for immediate shipment; --OR can be cleaned and serviced by our shop for timely shipment.

CALL 315-589-4511 to confirm availability, and to discuss your particular ONION PEELING equipment need.

Alard Item Ref. #:Y3775