FITZPATRICK INDUSTRIAL IMPACT MILL...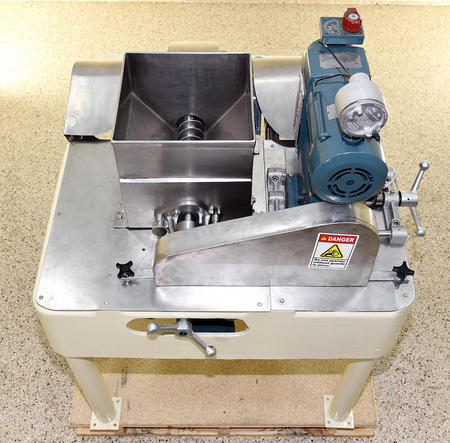 Also scroll down to see VIDEO below...
Fitzmill Model DAS06 comminutor food grade stainless steel hammermill for controlled particle size reduction...

FEATURES:
12 inch square by 12 inch deep stainless steel product infeed with stainless steel safety pour grid, tapers to feed auger.


3 inch diameter stainless steel feed screw with 1/4 HP 3 phase variable speed drive.


6 inch by 11 inch cutting / milling / comminution chamber, with horizontal stainless steel shaft now fitted with (16) fixed stainless steel blades blunt on one side and sharp on the other. The cutting shaft has pulleys on both sides so as to be reversible for quick changeover from sharp knives to blunt edges.


The knives/hammers are positioned above an interchangeable stainless steel sizing screen. Screen perforation size and shape determines particle size reduction.


Stainless steel discharge funnel with 5.5 inch by 15.5 inch oval discharge outlet with bag holding flange.


46 inch infeed height, 22.5 inch discharge height.


Food grade stainless steel product contact surfaces.


Stainless steel top plate over painted support base and legs.


10 HP 208/230/460 volt 3 phase comminutor drive motor.


Belt pulleys on head shaft allow for different speed settings depending on which sheave the belt is placed.



Other blade and screen configurations, and/or explosion-proof controls are available optionally for this machine. CALL 315-589-4511 to discuss your application specifics.

As of this writing, this comminuting machine is in stock at Alard in EXCELLENT operational, mechanical and cosmetic condition, available for immediate shipment.

CALL ALARD at 315-589-4511 for current availability, and to discuss your particle size reduction needs.

Alard Item Reference #:Y3779