CONTAINER CODER, NON-CONTACT CONTINUOUS INK JET...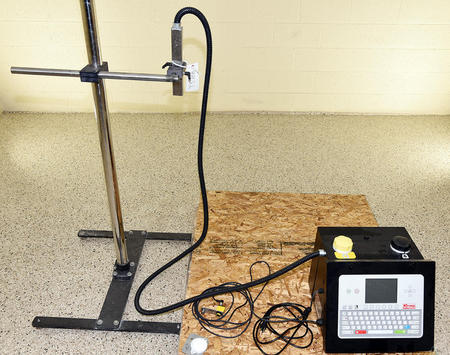 A CITRONIX Model CI 3200 CIJ non-contact continuous ink jet coder for use on plastic, metal, paper, glass, or other packaging materials / substrates...
FEATURING:


Alphanumeric, bar code, logo, graphics & two-dimensional data-matrix printing.


Line speed of up to 272 inches (6.9 meters) per second, with 3-12 mm character height, 5-16 dot font height & 75u drop size.


Rugged stainless steel print head capable of 1 to 2 lines of print.


Powder coated steel cabinet, measuring 16 inches long by 16 inches wide by 14 inches high, with Ink & make-up tanks.


110 volt single phase (household current) electrical input.


Operating temperature range of 41 - 113 degres F (ink dependent).



Pedestal mounted with an adjustable head.

As of this writing, this non-contact continuous ink jet coder is in stock at ALARD, in GOOD CONDITION, available for immediate shipment.

CALL 315-589-4511 to confirm availability, and to discuss the details of your particular food packaging equipment needs.

ALARD item reference #: Y3788