CORNELL 4 inch STAINLESS STEEL FOOD PUMP with FEED TANK and DRIVE...

A Cornell Model 4NMP-F5K T316 stainless steel hydro transport food pump coupled with
a Commercial stainless steel vortex product infeed tank, and a 7.5 HP motor, wit
h 4 inch inlet and outlet connections.


FEATURING:


Manufacturer rated for:



Approximately 100 to 800 gallons per minute depending on RPM and head resistance (pump curves available on request, call 315-589-4511), with whole or cut food product / solids handling ability for up to 2.94 inches (74.7mm) in diameter by 4 inches (171.6mm) long.


Designed and manufactured with the sole purpose of pumping food products.


Ideal for agricultural applications such as fruit washing and packing as wel las food manufacturing operations such as whole or cut food product conveying,cooling and / or sanitization in water applications.


Offset volute design capable of gently conveying-in-water whole or cut food products including potatoes, french fries, potato chips, live fish, cranberries, carrots, apples, cherries, peas, broccoli, crayfish, shrimp, lettuce , green beans, nuts, peppers, olives, cucumbers, raisins, beans, corn, peaches, beets, oranges, and more (larger products may require a larger pump; --see size specification of this specific pump above). Please note we stock several sizes of Cornell food pump; call 315-589-4511 to discuss your food product water transport need in detail.



Cast stainless 316T steel food process pump with all stainless steel product contacts, including volute, shaft, and impeller.


Single port impeller for handling whole or processed foods.


The Cornell food pump has 4 inch flanged suction inlet and discharge outlet connections appropriate for a 4 inch water pipeline.


The stainless steel product feed tank is 42 inches long by 32 inches wide by 21 inches deep; with a 2 inch bottom sanitation drain, with valve, for cleaning.


Flexible hose connection between vortex tank and the pump.


Food pump, tank, and drive mounted together on a commmon tubular stainless steel frame set on threaded rod adjustable height / leveling feet for a 41 inch infeed height, and a 13 inch discharge height.


All food grade stainless steel construction pump, tank and frame.


7.5 horsepower 1750 RPM belt and pulley drive, 208/230/460 volt 3 phase electrical input.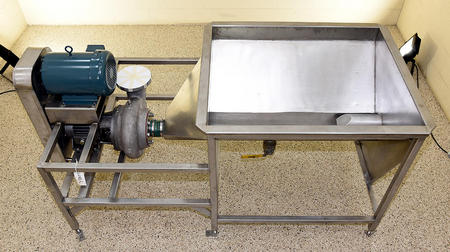 As of this writing, this stainless steel food pump / flume pump kit is in stock at Alard, in EXCELLENT operational, mechanical, and cosmetic condition, available for immediate shipment.

CALL 315-589-4511 to confirm availability, and to discuss your particular food equipment needs.

Alard item reference #:Y3807