KNIFE PEELER, Sormac KP-60 with V-BELT FEED CONVEYOR...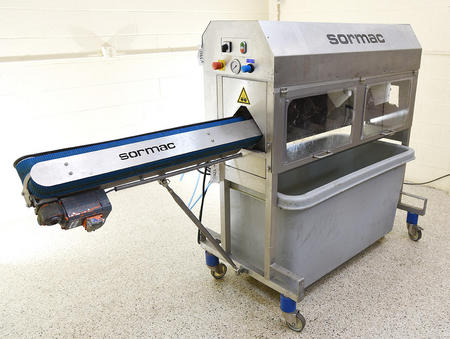 A Sormac model KP60 in-line knife peeling machine manufacturer recommended for peeling elongated vegetable products such as carrots, salad cucumbers, white radish etc.

OPERATION:

Product is automatically fed or hand- placed onto the feed conveyor, which conveyos the product to the first set of transport rollers. The machine is equipped with nine pairs of transport rollers, which convey the product horizontally through the peeling machine. Pneumatic pressure holds the product in place as it is driven through the 8 knife holders, which are placed at different angles and peelthe product on all sides along the circumference.


FEATURES:


Dry peeler - totally dry peeling.


Hand-peeled look and quality.


Smooth peeled surface for extended shelf life.


Peels are dry waste, and easy to handle.


Easily accessed hygienic design (easy to clean and disinfect). The knife holders and transport rollers are equipped with a quick release system, which allows for easy removal for cleaning or replacement.


Integral operator controls with interlock safety system for safe operation and maintenance. Controls include pneumatic roller pressure adjustment to accommodate different products and/or variations inproduct sizes.


Manufacturer rates for 4,000 to 5,000 per hour throughput if automatically fed via the v-belt, or 2,000 - 2.500 pieces per hour with product placement by hand.


All food grade sanitary stainless steel construction.


Includes plastic rolling waste catch bin sized to fit beneath the peeling machine to catch the peels.



208 / 230 volt 3 phase electrical input, compressed air required for pneumatic features.

As of this writing, this Sormac dry peeler, knife carrot peeler, is in stock at Alard, in VERY good operational condition, available for timely shipment.

CALL 315-589-4511 to confirm availability, and to discuss your particular food equipment needs.

Alard item reference #:Y3901