ROLLER SIZE GRADER with SIZED PRODUCT TAKEAWAY CONVEYOR, stainless steel...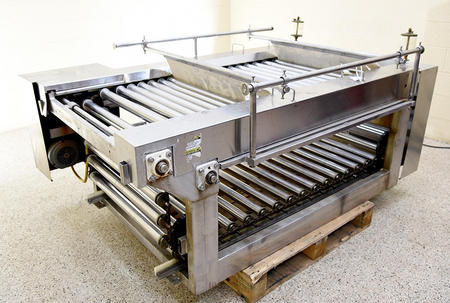 A KERIAN SPEED SIZER, Model S-30, 30 inch sizing-width model, in stainless steel, for size grading.


FEATURING:


31 inch wide by 17.5 inch long infeed chute.


27 inch wide by 5 foot long roller bed.


Comes with adjustable vinyl flaps over the grader bed, that can be placed and set to help spread and align product.


Openings between rollers range from 1/2 inch to 2 inches with the spacing increasing as the product progresses from the infeed to the discharge.


Product drops through the rollers at whatever point the roller spacing becomes greater than the product size, so that by placing conveyors or chutes beneath the roller bed, different size grades can be collected. The width and nunmber of the collection device(s) determine the number of grades sorted.


Came / comes without feet or leg extensions, and sits at a 29.5 inch working height sitting on the frame; --can easily be set to desired working height with the addition of feet or legs.


Food grade stainless steel construction, including support frame, rollers shrouds and guards.


Has chain oilers for easy maintenance and smooth operation.


1HP 208/230/460 volt 3 phase drive.


As of this writing, this Kerian LS30 roller size sorter is in stock at Alard, in EXCELLENT operational, mechanical, and cosmetic condition, available for immediate shipment.

CALL 315-589-4511 to confirm availability, and to discuss your particular food product sorting and grading needs.

Alard item reference #:Y3908