SCREEN SEPERATOR for DRY BEANS...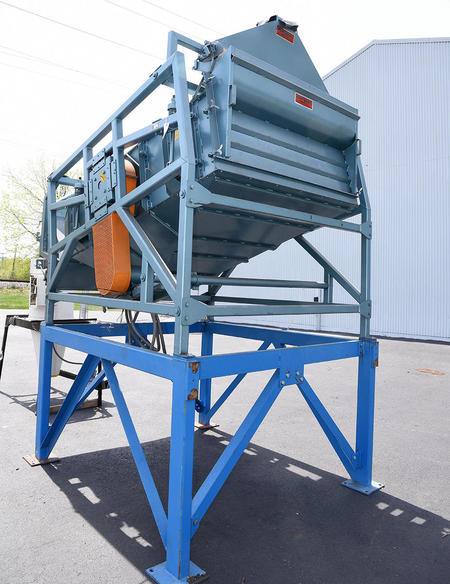 A Forsberg's Model 8400 x 60 Screen-Aire Type Seperator with a positive eccentric; a high-speed, vibrating screener manufacturer recommended for accurate, high capacity and high quality seperation specifically for the dry bean industry...

FEATURES:
Dual deck with easily changeable screens:

Woven wire screens measure 60 inch wide by 84 inch long.

Top screen has 1 inch clear openings with ball cleaner system to prevent blinding.

Lower screen has 3/16 inch clear openings.



Series 8400 standard four-bearing design and isolation mounts.


By incorporating outboard bearings mounted on an isolation mount and inboard bearings mounted on screener body, a positive eccentric motion is achieved regardless of load on the screen.

Outboard bearing isolation mounts, combined with the unique balancing system, make the frame virtually vibration free.

Screen support grid requires no hold-downs, thus allowing each screen to be easily changed.



This Forsberg screen separator is bolted to a heavy duty tubular support riser frame.


Approximate 12 foot infeed height.

Approximate 5 foot discharge height.



Three (3) discharge design with manually adjustable negative air louvers, to adjust air flow.

Coned bottom pan for discharge of fines.

End discharge for usable product.

Side discharge for larger debris.



7.5 HP Oneida Air Systems cyclone-powered negative air system.


Underside mounted vibratory / eccentric 3 HP drive motor.


All painted stainless steel construction.



230/460 volt 3 phase electrical inputs.

As of this writing, this DRY BEAN SCREEN SEPARATOR / AIR CLEANER is in stock at ALARD, in GOOD condition, available for immediate shipment.

CALL 315-589-4511 to confirm availability, and to discuss your particular dry bean processing equipment needs.

ALARD item reference #: Y3603